Undercarriage
Union Tractor Select Brand Premium Undercarriage is an industry leader in providing quality undercarriage for all types of equipment
Union Tractor Ltd is the most reliable undercarriage supplier in Western Canada. We are pleased to offer our own brand, Union Tractor Select. Union Tractor Select undercarriage features the high level of reliability needed for today's demanding applications as well as a competitive warranty and service guarantee.
We offer various types of track chains including sealed and lubricated dozer chain, sealed and greased excavator chain with press fit master pins and sealed and greased excavator chain with slip fit T type master pins. Track pads, sprockets, rollers and hardware for all makes and models of heavy equipment are available from our extensive inventory.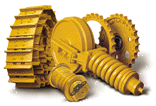 We take pride in the Union Tractor Select brand and back it with the same comprehensive warranty as the Original Equipment Manufacturer.
Same as OEM Guarantee
Same as OEM Seals
Positive Pin Retention
Unmatched Roller Life
Union Tractor After-Sales Service
Select Premium Track Chains
Union Tractor offers dependable, high quality track chains.
Production and quality control comply with ISO 9001 International Standards.
Heat Treatment is the key process that increases wear resistance in severe working conditions.
Heat Treatment for link assemblies, pins and bushings
Base Heat Treatment: Quenching and Tempering
Surface Heat Treatment: Induction Hardening and Carburizing
Type of steel used in the forging process is low alloy boron steel
Lubricated link assemblies are manufactured with precision machining and heat treatment under precise production control. Components are assembled on a state-of-the-art track press. Fully automated vacuum and oil injection machines ensure accurate oil injection.
Heavy Duty Track Chains are designed to take heavy work loads for long hours. In order to achieve this, all components are produced with several key steps;
Steel is special alloy boron steel in order to achieve tough core hardness, links, pins and bushings are induction hardened
This multi-stage heat treatment is a key process that increases product life and achieves superior wear resistance.
After heat treatment, correct tempering eliminates any metal stress.
Precision machining allows precise assembly
Special oil is used to increase internal wear resistance.
For further information please feel free to contact us at your convenience. We would be pleased to inspect your undercarriage and arrange for a test under any conditions against any brand.