About Us
Who We Are
Founded in 1927 our mandate has always been to provide OEM quality service and parts at aftermarket prices. With 6 branches in Western Canada, Union Tractor provides service and parts capabilities in Edmonton, Red Deer, Kamloops, Prince George, Chilliwack and Grande Prairie. Key market segments include, Construction, Pipeline, Oil Sands, Aggregate, Forestry, Road Building, Mining, Oil & Gas and transportation.
As the largest non-O.E.M. heavy equipment parts and service dealer in Western Canada, Union Tractor prides itself in its value-added offerings such as Tool Crib Conversion Programs, Proactive Equipment Maintenance Programs, Undercarriage Measurement and Management Programs, Vendor Managed Inventories as well as many other offerings designed to save money while not sacrificing equipment availability.
After Market Parts
Showcasing the best quality aftermarket parts manufacturers such as Baldwin, IPD, Ultra Seats and more, we choose our manufacturers based on BEST VALUE not solely price. Union Tractor backs its product selection with almost 90 years of experience. We choose only OEM quality vendors with extensive quality assurance programs to ensure our customers are not compromising quality when saving money.
Union Tractor    Premium Private Brand
Union Tractor Select is the Union Tractor premium private brand. Today it includes undercarriage as well as Ground Engaging, chemical and lighting products. Each Union Tractor Select p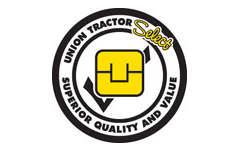 roduct meets stringent quality and product specification requirements. The Select Undercarriage for example, was designed by us to include OEM quality seals and positive pin retention, separating it from other import products and allowing us to provide an O.E.M, equivalent warranty. Each Select vendor is also required to assist in warranty and provide additional support for testing and developing products.
Union Tractor Service Capabilities
Providing a full range of shop and field services including; Heavy Duty repairs and complete equipment rebuilds on most makes and models, Engine overhauling and testing, Power Train (including torque, transmissions, final drives), hydraulics, undercarriage and welding. Field trucks with mobile track presses in all locations. Our new state-of-the-art facility in Nisku boasts 17 bays. Our massive extra wide, extra tall doors can accommodate some of the largest equipment the construction industry has to offer. We have the latest in engine Dyno testing equipment with the ability to fully test engines up to 1750hp.
Ask us for a free estimate or quote on any job!